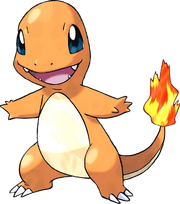 The Fire type is one of the eighteen official types from the Pokémon franchise. Fire is the second of the three Starter types, being the type of Charmander, Cyndaquil, Torchic, Chimchar, Tepig, Fennekin, Fennekin, and Scorbunny. Fire-type Pokémon usually have a very good offensive side, as Attack and Special Attack are usually their highest stats. 
As of Generation 6, Fire is tied with Poison for a total of 59 Pokémon each. Pure Fire-types appear to be the fifth most common type combination, with an exact amount of 29. There are only 33 more dual Fire-types, generally with Fire as a primary type, as there are only 11 secondary Fire-type Pokémon.
Oddly enough, three of the starters' first stage and final stage Evolutions are all secondary Fighting type as well, three Generations in a row. It is unknown why exactly.
Appearance
[
]
The Fire-type consists of many kinds of creatures, all of them involved with fire, heat, or the sun. There are also a fair share of Fire Pokémon based on legendary creatures, such as Ninetales (a kitsune) or Arcanine (a shisa).
Type matchups
[
]
Fire-type moves have increased damage against Grass, Bug, Ice, and most usefully Steel, which is a very defensive type in itself. Fire is resistant to the four aforementioned types, as well as itself and Fairy. It is also immune to Burn, and there are a few moves of this type that can inflict a Burn to the opponent.
Despite their resistance to six types, they are quite weak to some types. Their biggest weakness is Water which is the most common type of all. Its other two weaknesses are Rock and Ground, both being quite common, in terms of attacks that can be learned by a bunch of Pokémon. Water and Rock also resist Fire, and aside from Fire itself, the only other type that does this is Dragon.