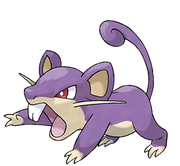 The Normal type is one of the eighteen official types from the Pokémon franchise. The Normal type is one of the most common types in the franchise, and also the very most basic of all. It has no normal resistances and its moves don't weaken the other types as much as the others. Its moves are resisted by Rock and Steel types, and its only weakness is the Fighting type.
Aside from having only one weakness, it is also immune to the Ghost type, but in turn, Normal-type moves are unable to cause damage on said Ghost type, unless moves like Foresight and Odor Sleuth are used, or the ability Scrappy is in effect. Normal type Pokémon commonly have a large movepool of varying types.
As of Generation 6, there are 97 official Normal type Pokémon in existence, making it the second to most common type of all, with Water being first. Most of the Normal type Pokémon are pure Normal type, with 60 official ones existing. When it comes to dual-typed Pokémon, Normal is most often paired with the Flying type and is only in four cases the secondary type.
Normal type Pokémon usually tend to be mammals and appear in the Field Egg Group, but the type isn't exclusively to either species and Egg Group: reptiles tend to appear in the same type, and there do appear a few odd Pokémon such as Porygon or Ditto. Normal's most often type combination with Flying exclusively contain many kinds of birds.